Consider these practices to start building or improving corporate culture immediately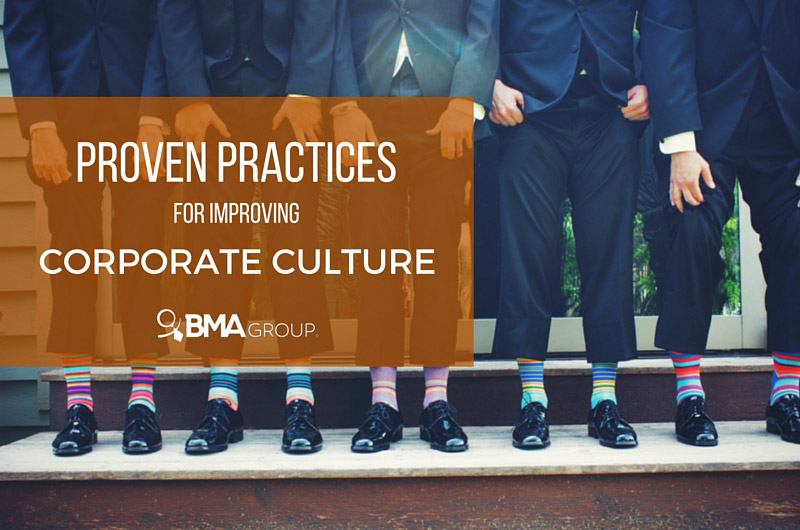 Put. Employees. First. That's it. (In a nutshell).
Clients are important, and investors are critical, but nobody trumps employees. Without them nothing happens. They are the fabric of your business. Only when you put your employees first can you give your clients the treatment they expect and deserve. When you please your clients, you delight your investors. Everybody wins.
It is a fact that happy employees perform better and are more productive than miserable workers. One effective way to keep employees satisfied is by creating and sustaining a healthy corporate culture where employees feel safe, valued and understood. Corporate culture reflects what your organization believes, its accepted norms and behaviors–its way of life.
"Culture eats strategy for breakfast." -Peter Drucker, leading management consultant, educator and author.
A survey by management consulting firm Right Management showed that 25 percent of employees change jobs in search of a better work culture. In a CareerBuilder survey, 60 percent of tech employees said that good work culture is more important than salary.
A healthy culture is critical to attract, engage and retain talent. Company culture seeps into every aspect of your business—every conversation, practice, policy, project, meeting, phone call, memo, etc. It affects your products, services and brand identity. Taking it lightly and failing to keep high standards for it could be catastrophic for your business.
Cultural change within a company can be challenging, yet it may be easier than you think, and it's definitely worth the effort. Whether your corporate culture could use some tweaking here and there or a total makeover, there are several fundamental areas where you can make improvements: people, communication, career development, work schedules, time for fun and work area.
Here are seven ways to improve your corporate culture starting right now. You will find that it's in the details that you can make the greater impact.
"To win in the marketplace, you must first win in the workplace." –former Campbell Soup CEO Doug Conant
1. HIRE THE RIGHT PEOPLE
You can have the nicest offices and the smartest policies and practices in place, but if you hire the wrong people, you will not have a solid corporate culture. In addition to the right skill sets, employees need to have the right personality and attitude to fit in your culture. The same goes for promotions—choosing the right leaders. Companies often find they can improve corporate culture by revamping their interview and hiring processes.
2. PROMOTE TEAMWORK
Encouraging team-building skills and collaboration improves morale and employee satisfaction. Without team cohesion you limit your team to the effort each team member can do alone. Collaboration brings people together, inspires them, promotes creativity and increases productivity. It's important for your team members to connect with each other as co-workers and friends. Team-building activities help put your team members on the same page.
3. FOSTER EFFECTIVE COMMUNICATION
Among other things, a culture is a big collection of relationships, and human relationships require communication. Good communication is therefore a vital part of creating and maintaining a healthy corporate culture.
Following are some key ingredients of an effective communications policy:
Establish open lines of communication for all members of your team–from your top executive to the receptionist.
Thank your employees. Saying "thank you" for a job well done, and being specific about it, doesn't cost you anything but pays you dividends in engaged and loyal employees.
Say you're sorry. Apologize when you make a mistake. The two seconds it takes to say those two words will save you countless hours dealing with disgruntled employees.
Be kind when pointing out mistakes and offering constructive criticism. Give your employees the benefit of the doubt when correcting them. Don't assume the mistakes are intentional. Focus on how to avoid them in the future.
Ask questions. Encourage your leaders to communicate with their team using questions instead of commands whenever possible. Asking employees for their opinions encourages a culture where they feel respected and understood.
"To make customers happy, we have to make sure our employees are happy first." – Zappos CEO Tony Hsieh
4. SUPPORT THEIR CAREER GOALS
Supporting your employees' career goals by providing adequate training, development and other opportunities for professional and personal growth shows them you care about their dreams and further cements their commitment to their careers, jobs and organization.
5. ENCOURAGE A HEALTHY WORK-LIFE BALANCE
The all-work-no-play culture that dominates in many companies creates an unnecessarily stressful, intimidating, even frightening working environment. Lack of free time and work-life balance leads to early burnout, which results in under-performance, lower productivity and high turnover rates. Time off, telecommuting and flexible work schedules improve morale, counteract burnout and reduce stress levels, making employees happier and more productive.
6. GO AHEAD, HAVE FUN!
Reward your employees' efforts by celebrating victories together, throwing holiday parties and organizing sports activities, game days or company outings. Give everyone the opportunity to attend, socialize with co-workers and have a good time. Having fun together makes your team stronger and improves corporate culture.
"You can build a much more wonderful company on love than you can on fear." –The Container Store CEO Kip Tindell
7. GET PHYSICAL
The physical space surrounding your employees can contribute, positively or negatively, to corporate culture. Here's an idea: let your employees design their workplace, choose wall color or bring plants to work. Allowing employees to participate in decoration choices gives them a voice and engages them. According to a study by England's University of Exeter reported by ScienceDaily, adding plants to an office can increase productivity by 15 percent. The study concluded that putting plants in offices led to increases in workplace satisfaction, perceived air quality and self-reported levels of concentration among workers.
THE BOTTOM LINE
The best thing you can do to improve corporate culture is to take the necessary steps to make your employees feel appreciated and not taken for granted. Cultivate this sense of appreciation at all times. Embrace it. Let it affect every decision you make, and see how it transforms your company from just another place to work to a great—or even best—place to work.
---
If you want to learn more about engaging employees and keeping them motivated and productive, we've created a valuable guide designed to help you attract, engage and retain top talent: "HOW TO ENGAGE EMPLOYEES AND KEEP THEM HAPPY."