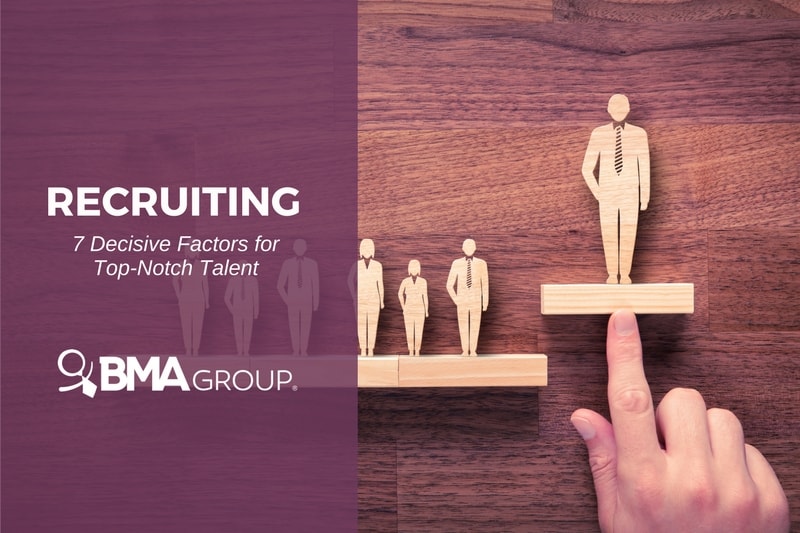 You need top-notch people to help you grow your business.
In this day and age, recruiting top-notch candidates is proving to be more difficult than clearing your hectic schedule.
Let's face it, the workforce landscape is changing and organizations need to adjust their approach to recruiting if they are to succeed. Today's top-notch candidates look for more than a good payroll. To lure in the best talent, companies need to know what candidates are looking for.
A winning recruiting strategy has a two-way street approach. Know what you need from a candidate (i.e. job description, soft skills, hard skills, etc.), but also make sure that what your organization has to offer, appeals to their needs and wants.
For your firm to succeed at this, you need to recognize the voice inside your company. As an employer, you should ask yourself: Which qualities does my firm have that would appeal to top-notch talent? What do we need to improve?
Answering these questions will give you a clear picture of where you stand. And because this is not the typical approach to recruiting, it will give you a competitive edge to win over the best candidates. The goal, of course, is to lure in the best talent and to retain them for the long run.
Start by assessing where your firm stands regarding the following seven things that top-notch candidates look for in a company.
1. A Safe and Healthy Work Environment
Pause for a moment and look around. What do you see? Are your employees engaged in their work? Do they seem satisfied or do they have long faces? Their facial expression is perhaps the easiest way to tell whether your firm's work environment is healthy and productive, or if adjustments are needed. A healthy work environment should feel like a place where ideas are heard and the best are put into action collaboratively. It's also a place where leadership provides a mix of challenges, opportunities, acknowledgements and rewards. A place where some mistakes are allowed, so nobody feels like they're walking on eggshells. A safe and healthy working environment is always a good asset in the recruitment process.
2. Transparent and Open Communication
Top companies know that employees are their best asset. They also know that, to keep an employee engaged, communication is key. Productive employees have a clear understanding of what is expected of them. They also know how their job fits into "the bigger picture", your corporate goals. Keep an open communication with your employees, from the top down. But also make them feel comfortable knowing that they can talk to their superiors about their ideas and concerns. Word gets around about a company's working environment, so make sure that your employees have positive things to say. Your best recruit yet might be out there listening.
3. Flexibility
Most people try to balance their work and personal life. Often, this requires flexibility and understanding from all parties involved. Candidates with the best skills will probably look for some type of work arrangement that will allow them some level of flexibility. This can come in the form of working from home some days or a few hours a week, or in certain situations. Alternatively, flexibility can also mean adjusting the 40-hour workweek to four 10-hour days and a three-day weekend, for instance. Each employer sets their own rules here, according to their business needs, but finding a way to provide some flexibility for the employee is a well sought-after benefit for top talent.
4. Corporate Culture Fit
There are different styles of corporate culture. If you have no clue what corporate culture is, think about it as the personality of your firm. How does it relate to its customers, providers, employees, etc.? For instance, it could have a set of conservative rules and policies for employees to follow, and its consequences. Alternatively, it could be more laid back and casual, providing a more relaxed setting for the employee (with guidelines, of course). The way the employer sets the tone strongly influences the behavior of its employees. Some people prefer to work in a well-structured organization, while others enjoy having room to do certain things their way to achieve a common goal. Define your corporate culture and identify the type of people that will fit into that culture. A strong culture will drive candidates straight to your door, saving that initial step of the recruiting process.

5. A Feel-Good Office Space
It may not seem critical, but think about it. How would you feel working in a small, enclosed space with no windows or natural light? Doesn't the mere thought of it bring you down? Would you even want to show up? We've all seen the pictures of Google's headquarters (also known as Googleplex) and felt we would love to work there. Right? It's the ambiance that does the trick. Now, your organization doesn't need to be in the newest or fanciest building on the block. However, creating an ambiance that incorporates good indoor air quality, natural light, a comfortable space, and maybe plants, goes a long way in making employees feel good. It impacts your employees' physical, emotional and mental health. In turn, productivity may increase or decrease accordingly. Therefore, so will your revenue.
6. Diversity and Learning Opportunities
Successful global companies have proven this point time and again. Organizations benefit from diversity. There are many faces to it: race, ethnicity, gender, sexual orientation, socioeconomic status, and age, among others. Promoting diversity means providing a safe environment in which individuality is celebrated. Because each person is a world of experiences, when they come together to collaborate in a project and are encouraged to share their knowledge, wonderful things happen. Diversity not only benefits the company. Recruiting a multicultural team, for example, can nurture personal and professional growth for each person in the team. Top candidates are always looking to further advance their careers. Make sure your company provides this opportunity. It's a win-win scenario.
7. Acknowledgement and Motivation
Whether they say it or not, everyone likes to be acknowledged for a good idea or an outstanding performance. Recognizing good work and keeping people motivated is a common trait of the best employers worldwide. However, big gestures or spending a lot of money is not necessarily the way to go. Find out what keeps your employees motivated and try to provide, consistently, a reason for them to keep going. After all, it's nearly impossible to be a top performer all the time. As Zig Ziglar said: "People often say that motivation doesn't last. Well, neither does bathing. That's why we recommend it daily."
Recruitment processes are not random. In fact, they are measurable and very well-studied. Headhunters for top companies, such as BMA Group, have done their homework and know what top talent looks for.
On the other hand, the best candidates know the positive impact they can make in any company. To many of them, the decision to work at X or Y organization is a matter of finding the right combination of elements. Does your company have them?
Recruiting la crème de la crème is no easy task and it often requires professional help. However, it's well worth the investment because it will positively impact your company's overall efficiency, as well as its relationship with customers, shareholders and surrounding communities. Let professional headhunters help you shape the organization that top talent will want to work at. Doing so will have amazing results in your business' bottom line. Plus, it will help you attract the best talent available in your market, or import it from wherever it is!